Get trained to work in the welding industry. WorkINdiana allows you to earn an Indiana High School Equivalency Diploma and American Welding Society (AWS) certification at the same time to give you the boost you need to become an Entry Welder.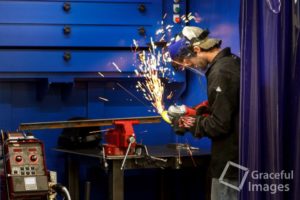 WHY: An Indiana High School Equivalency Diploma alone may not be enough for your career. Employers are looking to hire people with experience AND training. You could earn up to $36,860 per year working as an Entry Welder!
WHERE: Ivy Tech Welding Institute at the Mid-America Science Park, 821 S. Lake Road South, Scottsburg, Indiana 47170.
WHEN: Mondays and Wednesdays, May 4 – July 8, 2015. 6:00 p.m. – 9:45 p.m. 80 Hours, 10 Weeks.
HOW: Contact your Adult Education Instructor, Transition Specialist, or call 812-981-3777.
MORE INFORMATION: Please click the image below to view the program flyer.
INTraining #4807